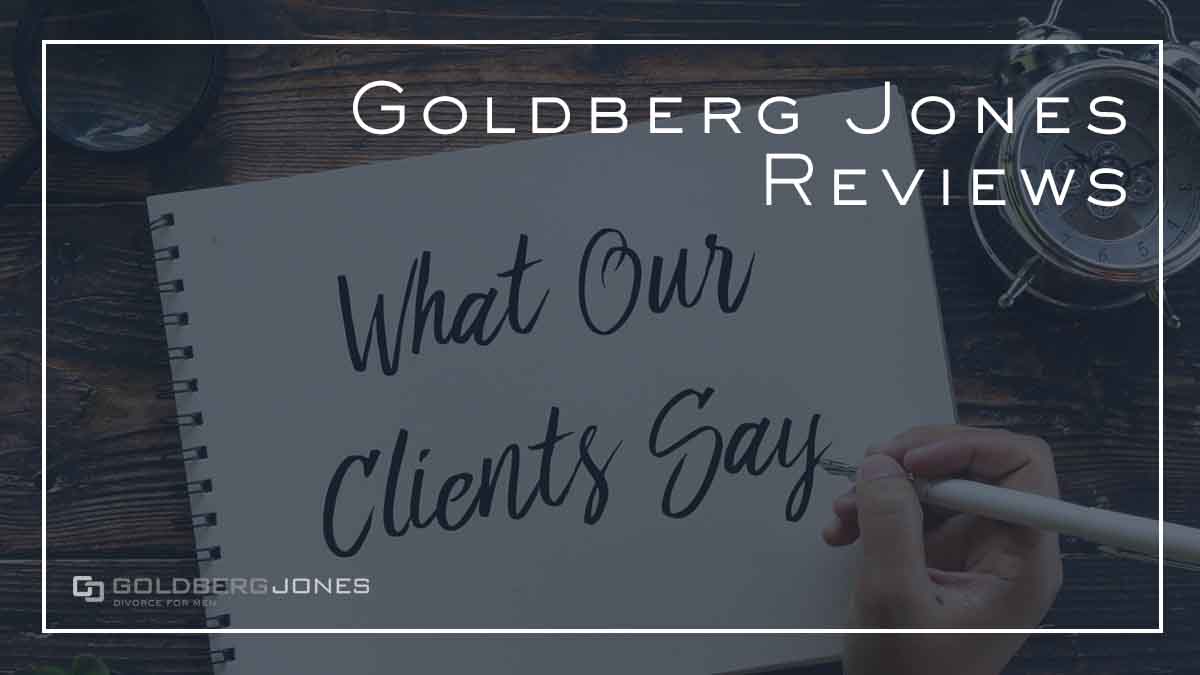 Goldberg Jones Reviews
Client Testimonials
After my original attorney with another firm almost screwed up my case I reached out to Goldberg Jones. As the primary earner in my family I needed to protect my current and future assets. I called and was immediately given a consult same day. After the consult I was matched with Nathan Gibbs. Nathan jumped in immediately and cleaned up the mess the previous attorney left.

He represented me well through two mediations and two hearings. Though we didn't need up going to trial (thankfully) I know he would have kicked butt there too! He kept me well prepared and kept me in the right track. He encouraged me to be strong and not give up and give In and keo
The moment I contacted the Goldberg Jones office and then met with Mr. Nathan Gibbs, I felt I was in capable hands. They listened, quickly analyzed the situation, and dispelled my apprehensions, putting my mind at ease in an instant.

Nathan's game plan proved to be solid, he kept me in the loop every step of the way, stepped up the pressure when needed, and basically defended my best interest. The case came to closure faster than I ever expected. I highly recommend Nathan in particular and Goldberg Jones in general.
Nathan Gibbs was very consistent and clear in his communication. In matters like family issues with ex-spouses, you want someone who is aggressive and confident in the law and their ability to get sh!t done. Nathan did that and drove a winning outcome for us. Thanks!
I went through a very contentious divorce with an extremely vindictive woman who falsely accused me of a serious charge. Nathan Gibbs of Goldberg Jones took my case. He was very professional and extremely honest about the nature of the charge and what I was up against. Thankfully Nathan was able to get the charge suspended.

Nathan wasn't just doing his job. He knew I was telling the truth and really went to bat for me. That was the most important thing for me.
Nathan Gibbs was a great lawyer for my case. He understood all that was at stake & worked with me to get the best settlement I could preserving what I valued most.

In particular he was on top of the next steps and kept me informed about the likely scenarios. I would not hesitate to recommend Nathan to anyone who finds themselves in the misfortune of facing divorce.
I called Goldberg Jones, specifically for Robert Mar. I had been recommended to him by a friend of mine, a colleague of his.

I was in the middle of a custody trial involving 2 young kids and unfortunately was not in a position where I could afford to hire an attorney to fully represent me, but I couldn't represent myself without some kind of advice. I hired Robert to review my paperwork and assist me in preparing for trial.

He is AMAZING! He was efficient with our time (He's not cheap, however, he is worth every single penny!) and he was very candid with me regarding how I should and shouldn't handle both myself and the case/trial. He gave me realistic expectations for the outcome and walked me through how the process would work.

My trial officially ended today and I feel that the information and assistance that I received from Robert were instrumental in my positive outcome. I would recommend him again and again!
Goldberg Jones and more specifically Rob Mar helped me during a difficult custody battle. As a father in Washington state, I expected only a 50-50 but was surprised Rob was able to get me pretty much 100% custody during our court case!!! My two-year-old daughter resides with me full-time and I could not be happier :)!
First, Robert was great to work with. Robert was the ONLY attorney that I spoke with that I felt was on my side in the divorce. Even though Washington state is 50/50 on divorce cases, the process was much more complex and Robert was incredibly knowledgeable in all aspects of the divorce proceedings.
We are so pleased and thankful to have found Mr. Robert Mar at Goldberg Jones for our legal matter. Mr. Mar helped us tremendously with our case. He was professional, honest, responded in a timely manner, and the retainer was reasonable. We appreciated his keen mind and ingenious solution that ultimately led to the dismissal of the case. We won thanks to Mr. Mar!!
Gregory Morphew is a very good man that's what makes him a good lawyer he made me feel very comfortable thank you
After hearing one of their ads on the radio, I looked up Goldberg Jones and read of their reputation. I called and told them my situation, and they paired me with an attorney whom they felt was a good match, Mr. Gregory Morphew.

Upon meeting Gregg, it was easy to gain rapport and trust in him; he was friendly, knowledgeable, and professional. We kept in close communication through email or phone, and he was always good at answering the plethora of questions I came up with.

I appreciated Gregg's valuable input and was able to be vulnerable with him enough for him to tell it to me straight. I put my faith in him and his ability as an attorney to help me in a dire family law situation, and I believe wholeheartedly I could not have come out of it with a better result. Gregg put in the work and was more than fair with the financial side of things. I recommend, Gregg Morphew.
A friend of mine referred me to Goldberg Jones firm. I had a meeting with Ken Alan at his office in which I explained my case. He referred me to Gregory Murphy (Greg). Since the beginning, Greg was very supportive. Divorce is a difficult situation, for someone who doesn't know much about laws and especially for someone who immigrates to this country. But Greg had a very positive attitude toward my case until the end.

He was a very reliable, quick problem solver. He was honest and straightforward. He clarified and explained to me what is the most important things to know and to fight in a divorce case. One thing he did and touched me deeply was his attitude, supports, and his sense of humor but still focused as a professional lawyer during a 5 hours negotiation.
I could not be more grateful for the help and support I received from Mitchell Polonsky and the team at Goldberg Jones. Mitchell was able to provide professional and compassionate counsel when I needed it the most.

I felt extremely confident going through my divorce knowing I had an advocate guiding me through the experience and providing me with knowledgeable information along the way. I highly recommend Goldberg Jones.
Mitchell Polonsky helped me resolve a difficult modified parenting plan with my ex husband. He was professional, always available to answer any questions I had, he heard my wants/needs and communicated them to the other party without hesitation.

He gave me advice but still respected my wishes, and took a lot of stress off of me throughout the entire process. I highly recommend Mitchell as an attorney, he definitely works for his clients to get them the best results for their family.
I had a great experience with these guys super supportive worked with me made this difficult process so much easier. Mitchell was my lawyer and did an amazing job worth every penny THANK YOU MITCHELL YOU ROCK
Great firm, I worked with Mitch who was on top of my case and got the results I wanted. Definitely recommend this firm and Mitch himself to take care of anyone's divorce situation.
After two different…law firms just played the game, I reached out to Goldberg Jones based on their stellar win performance in the divorce market place….[My] wife of 22 years wanted my stuff…[and] was very aggressive with truth troubles.

Evan Baer took my case, which was a storm brewing in the courts for over a year. I relaxed and Evan indicated, "Leave the Driving to Us/Me." I did. The results were totally in my favor; considering, my…home was up for grabs. Evan promptly dispatched the aggressive opposition with case facts, logic, and an honest discourse before the judge. I now have equitable title and peace from an ordeal starting 2018. Thanks to Evan and Goldberg Jones.
Me and my husband contacted Goldberg and Jones after a recommendation of one of my coworkers. Ken provided the initial consultation and gave us some options of different paths we could take. After deciding how we wanted to proceed, we where handed into Evans very capable hands.

Evan immediately set up a meeting to go over the very lacking parenting plan my husband had been given during his divorce and sent us a list of things needed to build our case (list of our wants and must haves, etc). Once all our documentation was in he immediately began filing and getting the ball rolling for us. Something we couldn't figure out how to navigate on our own.

Evan has stood by us through the thick and thin, dealt with the craziest of things that could happen and remained calm and reassuring to us. Evan has been realistic of what to expect to happen so that our hopes aren't crushed by unattainable expectations. By far the best attorney we could ask for.
Evan went above and beyond in every way. He demonstrated true integrity and professionalism with the highest level of quality, compassion and respect. I was treated like person, and not just as a case. Evan did not leave a single stone unturned, and I will forever be beyond grateful for the magnificent service I was provided.
Went there to file a case through superior court to establish a parenting plan. It was very easy to communicate with my lawyer "Michelle D." and I never had any problems with filing. They are honest and will look out for your best interest. Very good process, I'm very satisfied with her work. I plan to keep them as my go to for family Law. They are the best in the Northwest for a reason, especially when it comes to good fathers and parenting cases.
Michelle Doyle has been absolutely phenomenal since day one. Michelle, my husband and I can't even begin to thank you enough for the consistent diligence and proactiveness that you have demonstrated from the get-go. We will be eternally grateful to and your colleagues for what you have done for our family.
Miki Hoy was my second attorney in my child custody case. First from Goldberg Jones. Miki was outstanding, professional and so personable. She was transparent with all things going on between both parties.

She was very informative and broke things down, as I don't understand lawyer lingo. She fought for all the rights I wanted and listened to every request I had. She was willing to back any decision I wanted. She communicated very well thru calls and e-mails. She would give me the best advice that would benefit me and my time with my son. She was exactly what I was looking for after my first attorney failed me. She was so on top of dates, times and goings on.

I couldn't give her enough praise. Thanks also go to the entire Goldberg Jones team. I believe Ken was the one that set me up with Miki. I would recommend Goldberg Jones, especially Miki Hoy. Thanks you so much Miki for have my best interests at your focus. I'm forever grateful.
Miki is the best. Thanks to her hard work and the hours she put into my case. My daughter now lives with me full time. When I hired Miki, it was a possibility that my daughter was moving out of state. I truly believe Miki fought just as hard as me. Now life is complete
My Attorney at Goldberg Jones is Mikki Hoy. She is speedy and keep her words, she is passionate and smart. The saying that who filled first usually wins all and takes all is not the case with Mikki, all she brings out from you is to tell the actual fact and the truth, then, peace of heart will all be yours all through to the end. My appreciation over me seeing my child with peace of mind is not enough yet am always thankful.

Thank you for giving me the space to breathe peacefully. Thanks to the listening understanding and organized boss Ken Alan. Also, my thank you goes to Jeff Ranks. God bless you Mikki.
I had a great experience with the attorneys here! Miki ended up being my main attorney and she was absolutely fantastic. She kept me in the loop every step of the way and made things as stress free as possible.

In the beginning, things moved very quickly and she was able to keep up the pace and get things done that most attorneys wouldn't have.

I really appreciate the service I received and if for any reason I ever need a lawyer again (fingers crossed I dont!), I'll be giving this office a call. Thank you for everything you guys did!
I was recently going through a divorce and needed to know my rights as a man living in Washington state. I would highly recommend Goldberg Jones to anyone in a similar situation.
Ken Alan - Managing Attorney
I started a case Goldberg Jones, Kenneth Alan is the lawyer I was working with. Mr. Alan advised me to do another action that did not involve their office. This was done without charging a fee, what a great and unexpected surprise. I have never received free advice from any lawyer. Thank you Mr. Alan if I ever need the legal services that Goldberg Jones provides I will certainly use Goldberg Jones.
Outstanding law firm. Attorney Ken Alan answered all of my questions. I received a consultation, and he reviewed a legal document for FREE. This is a great firm and excellent attorney
I called to see if they would be able to do anything for me. They were very honest and said that they didn't think it would benefit me to hire them. That shows great integrity and that they aren't out to take all of your money.

I have had a consultation with a lawyer that costs $250, Goldberg Jones didn't charge me a dime and said essentially the same thing. Great experience
I can't imagine the circumstances in which a divorce could be anything but an unpleasant experience, but having Goldberg Jones – Divorce for Men to guide me through the process has been an extraordinary help and comfort. I have been working with Kenneth Alan and found him to be not only professional and knowledgeable, but also very personable.

I have found that Mr. Alan's approach has a calming effect, which faces the matters at hand directly yet avoids stirring up any negative feelings or rancor. Very matter of fact. This approach particularly suited me because even though I am facing this divorce from my wife, I do not hate her nor do I wish her ill will, but I do want to protect myself in the process.

I have found that Mr. Alan strikes the perfect balance to satisfy all sides of my goals and intentions. I am very grateful to have found him & Goldberg Jones – Divorce for Men.
They have been exceptionally helpful in handling all different matters after my divorce! Only leaving me wishing and regretting not using them for my divorce. They are incredibly professional and knowledgeable especially Ken. Thank you so much. A quality attorney is difficult to find and priceless once you have found one.
Have Questions About Divorce?
Phone Questions Answered By Our Managing Attorney For Free!