BA Philosophy, University of Washington
JD University of Washington School of Law
---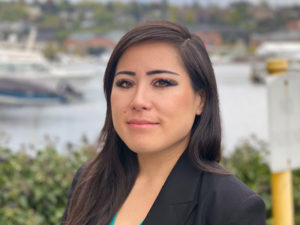 A caring, organized family law attorney, Miki Hoy is a skilled, passionate advocate for those she represents and a valuable member of the Goldberg Jones team in Seattle.
"I was initially drawn to family law because I wanted to maximize the opportunity to work closely with people," she says. "I find my strength in helping individuals navigate through some of the most difficult times of their lives."
Miki's deep compassion led her to work with victims of domestic violence at the Center for Community Solutions. She has also advocated for young people in need as a part of UW Law's Children and Youth Advocacy Clinic.
Miki earned her bachelor's degree in philosophy from the University of Washington. From there, she began her legal studies at the Thomas Jefferson School of Law in San Diego, a path she completed back at the UW School of Law, where she was awarded her Juris Doctor.
When not fighting for the rights of her clients, Miki enjoys being active and trying new things. A few recent endeavors include kickboxing, paddleboarding, and dance, among others. She's part of a lightsaber choreography and costuming group that performs for charity, and can often be found belting out various hits at karaoke.
From my initial consultation to the case conclusion, the attorneys at Goldberg Jones were amazing! I felt I could have more time with my daughter but I didn't know how to go about that process.

I was provided honesty, truth, confidence, and an overall sense of well-being once I began working with their firm. I am so proud to say the outcome was favorable to me and my daughter. To say thank you and I'm appreciative will never be enough.

– Triston
Have Questions About Divorce?
Phone Questions Answered By Our Managing Attorney For Free!