BA Eastern Washington University, Psychology and Government
MS Eastern Washington University, Clinical Psychology
JD University of Washington School of Law
---
Meet divorce attorney Ty Hume. An experienced, compassionate family law practitioner, Ty has been representing clients in the Seattle area since 2019. And his name is Ty, just Ty. It's not short for anything.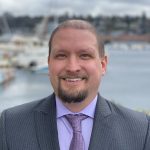 Since beginning his practice, Ty has helped countless clients navigate the tricky legal issues surrounding divorce, child custody, and other family law matters. He understands that this can be an emotional and stressful time, and he is dedicated to helping those he represents find practical solutions that work for their unique situations.
"My background in psychology drew me to family law," Ty says. "Working on my master's degree in clinical psychology I was involved in a lot of situations involving custody disputes. My passion lies in supporting children as the impact is so substantial and is often a major concern to parents."
Before embarking on a career in family law, Ty Hume was a professional boxer. While the connection between the ring and the courtroom may not be immediately apparent, a number of skills and attributes carry over from one to the other. More than brute force, knowledge, technique, and strategy honed through dedicated practice are the most important traits. Adaptability is also key in both arenas, you must be prepared to pivot and shift from an offensive to a defensive stance in the blink of an eye.
Born and raised in Spokane, Ty earned his bachelor's degree in psychology and government from Eastern Washington University. He continued his education in Cheney, receiving his Master of Science in clinical psychology. From there he began his legal journey on the other side of the state, earning his Juris Doctor from the University of Washington School of Law in Seattle.
Outside of work, when not spending time with his wife, reading, or enjoying a nice craft beer, Ty can often be found rock climbing, fishing, snowboarding, or playing golf. Though he doesn't box competitively anymore, he still enjoys watching fights in his free time.