We're fond of watching movies with dear old dad. They're appropriate for almost any occasion. In case you need some suggestions, we've compiled a list of awesome dad movies to watch with pop on Father's Day, Halloween, Christmas, or the random holiday you made up and only you celebrate.
These run the gamut from stories about the relationships between fathers and their children to movies that almost every dad we've ever met loves. Some titles are holiday-specific, while others are just films every dad we know loves. Take a look below and let us know what you think of our favorite awesome dad movies.
Awesome Dad Movies
Baseball movies are always a good place to start:
Field Of Dreams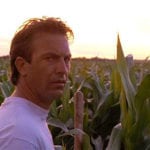 1989's Field of Dreams is a movie tailor-made for Father's Day. When a mysterious voice compels an Iowa farmer (Kevin Costner) to build a baseball diamond in the middle of a cornfield, it kicks off a saga that's more about fathers and sons than home runs. Or corn. Or even the ghost of Shoeless Joe Jackson.
This all-time sports movie classic offers wide-eyed enthusiasm, the search for atonement, and indelibly etched "If you build it, he will come" into the pop culture lexicon.
Bull Durham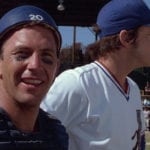 With Bull Durham, Field of Dreams, and For the Love of the Game, Kevin Costner has a thing for baseball as a storytelling mechanism.
Writer/director Ron Shelton deftly balances drama, humor, and heart in telling the tale of a perennial minor leaguer (Costner), his dumb-but-absurdly-talented protégé (Tim Robbins), and the superfan who unites them (Susan Sarandon).
Philosophical, romantic, and raucous, there's a good reason—many actually—why Bull Durham stands as one of our most beloved baseball and dad movies.
Pride Of The Yankees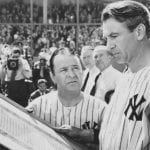 A biopic celebrating the life of Lou Gehrig, The Pride of the Yankees chronicles the rise of New York's legendary first basemen.
It follows him from his young days, dreaming of playing in the big leagues, to his death at 37 from the neurological disease now commonly known as Lou Gehrig's Disease.
A romantic tale of a passionate dreamer, this is one for baseball fans and non-fans alike. Fun fact: Babe Ruth plays himself. As do Gehrig's Yankee teammates Bob Meusel, Mark Koenig, and Bill Dickey.
The Sandlot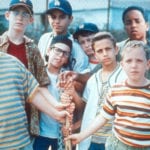 Celebrating more than 25 years, The Sandlot has become a modern classic for a certain generation. Following a group of neighborhood kids, the story deals with friendship, growing up, and changing times.
It also dives into the idea of broken homes, blended families, and coming to terms with the often harsh realities we face every day in family law.
But most of all, it's a love letter to baseball and the sense of wonder it can still create.
Moneyball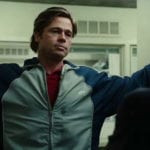 Who knew a movie about baseball statistics would be so compelling? But here we are.
Moneyball traces the saga of Oakland A's general manager Billy Beane (Brad Pitt). Hemmed in by finances, he turns to in-depth statistical analysis to build a winning baseball team.
Ultimately, he reshaped the way teams approach the game. Many teams have since imitated his approach with great success, but at the time it represented a radical departure from the way things were done.
Sure, the film follows the rise of an iconoclast who dared buck the system. But the heart of the film lies with Beane's relationship with his young daughter as they navigate the ups and downs of being a single parent.
Bang the Drum Slowly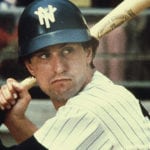 One of the greatest baseball movies ever, 1973's Bang the Drum Slowly also helped launch the career of Robert De Niro.
The movie tells the story of the friendship between a star pitcher (Michael Moriarty) and his dim-witted catcher (De Niro). They navigate the ups and downs on the baseball diamond as well as the latter's terminal illness.
Think of a baseball version of Brian's Song. Heartbreaking and heartwarming in equal measure, get ready to pretend you have something in your eye.
The Natural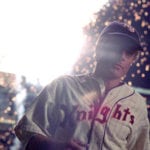 If you ever nicknamed a baseball bat "Wonderboy," you already know The Natural. Barry Levinson's Oscar-nominated adaptation of Bernard Malamud's novel traces the career of Roy Hobbs (Robert Redford).
A young prodigy, off-the-field events derail his path to the majors, though he finally gets his chance in the bigs much later in life.
A sincere homage to the national pastime, embodying both the pain and joy we endure as fans, this is a modern fable about the American dream.
42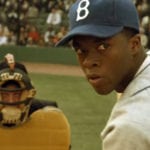 Jackie Robinson was a hero, both on and off the baseball field. There's a reason why Major League Baseball permanently retired his number.
42 dramatizes his struggle and the obstacles he faced to become the first African American to break the color line and play in the majors.
Full of great performances from Chadwick Boseman and Harrison Ford, among others, it's not only a great baseball movie but an important history lesson and illustration of how sports can drive change.
Bad News Bears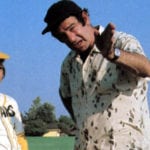 The cranky, crotchety, reluctant coach is a sports movie staple, but few are as enduring or memorable as Walter Matthau's Morris Buttermaker in The Bad News Bears.
The alcoholic, pool-cleaning, former-minor-league-pitcher becomes the unlikely father figure to the ultimate little league team of misfits and miscreants.
Rude, crude, and a ton of fun, it's a movie both kids and adults can love. Even if younger viewers may pick up a blue word here or there.
---
Just Because
Caddyshack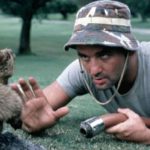 Admittedly, Harold Ramis' 1980s comedy classic Caddyshack doesn't have much to do with fathers, children, or the relationship between the two. But what dad doesn't love Caddyshack? What father doesn't bust out Bill Murray's Dalai Lama speech at least a couple of times a year at family gatherings?
The story of the absurdity that goes on behind the scenes at a posh country club is one of the most hilarious, quotable comedies of the modern era. It features Saturday Night Live vets Murray and Chevy Chase, as well as legends like Rodney Dangerfield, working at the top of their game. It's got that going for it, which is nice.
Finding Nemo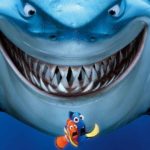 Fathers will do just about anything for their children. This has been fuel for films since day one. And, at least cinematically speaking, it's not a trait exclusive to humans.
As illustrated by Disney and Pixar's 2003 Finding Nemo, this also includes an animated clownfish voiced by Albert Brooks. When his son is taken from their home on the Great Barrier Reef, timid Marlin (Brooks) sets out on a dangerous journey across the open ocean to rescue his boy.
That's a simple formula, but the movie is anything but. Full of adventure, gorgeously rendered visuals, and engaging and sympathetic characters, Finding Nemo is inventive, engrossing, funny, and full of both humor and heart like few films out there, animated or otherwise.
If that's not perfect for Father's Day, what is?
Nebraska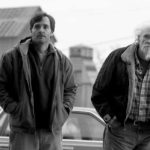 Director Alexander Payne's 2013 Nebraska is a bittersweet comedic drama—or dramatic comedy if you prefer. Quirky, and at times heartbreaking, the film looks at the troubled relationship between an adult son and his aging, alcoholic father.
The estranged pair travel from Montana to Nebraska so the patriarch can claim a dubious million-dollar prize.
Primarily known for his wild comedy, Will Forte delivers a subtle, nuanced performance, and Bruce Dern as his father is no less than stunning, more than earning his Best Actor Oscar nomination.
Shot in stark black and white, the color palette and flat, barren landscapes reflect the lives of the characters. The end result presents a powerful story about watching those you love to grow old and become fragile.
Mrs. Doubtfire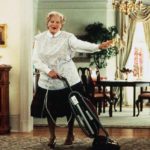 Again, fathers going to great lengths for their children is a theme on full display in Chris Columbus' 1993 comedy Mrs. Doubtfire.
After a bitter divorce that sees him being cut out of the lives of his children, down-on-his-luck actor Daniel Hillard (Robin Williams) disguises himself as a female housekeeper in order to keep an eye on and spend time with his kids.
This movie takes a lot of grief and has been spoofed and parodied all over the place. However, at the core, it's an inherently sweet family picture. It gets a bit sappy and light at times, but anchored by a Robin Williams performance that is simultaneously manic, overboard, and genuinely sweet, it's well worth another watch.
Father Of The Bride
Vincent Minnelli's 1950 Father of the Bride is, itself, a fantastic movie and well worth your time. It does star Elizabeth Taylor and Spencer Tracy after all, and was nominated for multiple Academy Awards.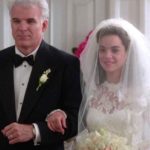 But for the purposes of this list, we're talking about the 1991 Steve Martin-starring remake. Watching our kids grow up, it's hard to imagine them as independent adults, fully capable of looking after themselves.
At the heart of this film is the realization every parent eventually comes to, that eventually our kids no longer need us, and they're just fine on their own.
That's a hard truth that George Banks (Martin) and his wife, Nina (Diane Keaton), have to accept building up to their daughter's wedding. That, of course, is easier said than done. All manner of shenanigans ensue, and the result is delightful.
Indiana Jones & The Last Crusade
If you've ever wished your dad was a heroic adventurer, a peerless intellectual, or just all-around cool, Indiana Jones and the Last Crusade is the wish-fulfillment movie for you. If your father just so happens to be Sean Connery, even better.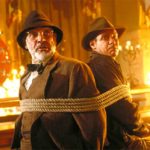 Steven Spielberg's 1989 film, the third in the franchise, sees everyone's favorite archaeology professor, Indiana Jones (Harrison Ford), on one last epic quest. At least until Kingdom of the Crystal Skull rolled around. This time, however, things are a bit different as he teams up with his father, Henry (Connery), to find the Holy Grail. The literal Holy Grail.
This has everything you want, from exotic locations to Nazi-fighting to high adventure where the very fate of the world hangs in the balance. If you can't go on an actual epic quest with your dad on Father's Day, watching this may be the next best thing.
He Got Game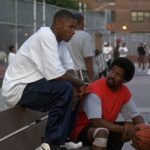 Relationships with fathers can be tricky and fraught with emotion. Few are as tangled as the one between Jake Shuttlesworth (Denzel Washington) and his son, Jesus (NBA star and rookie actor Ray Allen), in Spike Lee's 1998 film, He Got Game.
Jake is a convicted felon, serving time for accidentally killing his wife, Jesus' mother, in front of the boy. The younger Shuttlesworth also happens to be the country's top high school basketball player. A shady governor grants Jake temporary parole to convince his son to play for the politician's alma mater.
An obvious comment on corruption in politics, sports, and education, the strained, raw father-son relationship forms the center of He Got Game. Two terrific turns from the lead actors help make it one of Lee's most accessible films.
Paper Moon
Not all cinematic father figures are actual biological dads. Such is the case with Peter Bogdanovich's 1973 Paper Moon.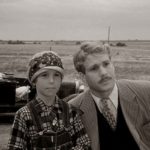 Whether or not Ryan O'Neal's Depression-era con man, Moses Pray, is the father of his real-life daughter Tatum O'Neal's young orphan, Addie Loggins, is a question that hangs over the movie. But whether or not there are any real blood ties, their bond is true, and the two form an unlikely partnership.
A sweet and mischievous road movie that follows the mismatched pair, it's also the story of a life-altering journey for both.
At 10 years old, Tatum O'Neal became the youngest Oscar winner to date for her turn as Addie. The subsequent estrangement of the father and daughter in the real world adds an especially poignant edge to Paper Moon. And there's hillbilly wrasslin'. What's not to love?
Thanksgiving/Christmas
As the tryptophan courses through your veins and your body tackle the Herculean task of digestion, physical activity is off the table. Doesn't settling back into the couch and watching a movie with the crew sound like the best option? To that end, we also have some Thanksgiving-specific suggestions.
Planes, Trains, And Automobiles
What's not to love about John Hughes working with Steve Martin and John Candy?
This mismatched cross-country road trip pairs Martin's fastidious advertising executive with Candy's slovenly traveling salesman. The result has become a true Thanksgiving comedy classic.
Charlie Brown Thanksgiving
It may not be a full feature-length motion picture, but what would any holiday be without a visit from Charlie Brown and the Peanuts gang?
Poor Chuck just doesn't get that buttered toast and popcorn are not traditionally found on a Thanksgiving table. Fortunately for everyone's favorite mopey sad-sack, Snoopy and Woodstock have his back.
Rocky
You may not immediately think of Rocky on Thanksgiving. Unless your extended family is prone to fisticuffs at holiday gatherings.
But since Sylvester Stallone's title character meets Adrian, the love of his life, on Turkey Day, it makes the cut. And hopefully your uncle Paulie doesn't chuck the bird out into the alley.
Side note: Rocky 2 also makes the cut. The rematch between Rocky Balboa and Apollo Creed goes down on Thanksgiving.
Spider-Man
As he usually appears in balloon form during the Macy's Parade, Spider-Man already has a connection to Thanksgiving.
But if you need more, Sam Raimi's 2002 superhero flick features a Thanksgiving dinner scene. The friendly neighborhood wall crawler's nemesis, Norman Osborn, stops by, only for Aunt May to chide him for digging in too early.
Alice's Restaurant
Novels, short stories, and TV shows are all fodder for film adaptations. But you don't often hear about songs being translated to the big screen.
Arthur Penn's 1969 Alice's Restaurant is an exception. Taken from star Arlo Guthrie's narrative folk song, the film tells the tale of a Thanksgiving day dump run gone awry.
Grumpy Old Men
In Grumpy Old Men, Walter Matthau and Jack Lemmon play lifelong neighbors and, most importantly, rivals.
This running feud only deepens when the retired TV repairman and former teacher spot their new neighbor (Ann-Margret) and the competition for her affection reignites old hostility.
This rivalry involves a particularly contentious, and hilarious, Thanksgiving dinner.
The Big Chill
Holidays and old friends gathering together go hand in hand.
Lawrence Kasdan's 1983 film, The Big Chill, may revolve around a funeral, but one of the key shared memories revolves around a flashback to a gluttonous Thanksgiving feast.
Dutch
The holidays are a time when we mend fences and bridge gaps. 1991's Dutch does both. Ed O'Neill's gruff construction worker must ferry his girlfriend's son from a preppy boarding school in time to make Thanksgiving.
A crass comic road trip, it has enough heart to warm the whole family on a chilly fall day.
Miracle on 34th Street
More commonly associated with a different holiday, most people forget this Christmas classic actually kicks off on Thanksgiving.
And to be fair, once Thanksgiving is in the books, it's usually a mad dash to the Christmas finish line, so it's never too early to get in a jolly frame of mind. (And this one involves lawyers, so we're all in on Miracle on 34th Street.)
Paul Blart: Mall Cop
As you're stuffed to the gills and on the verge of falling asleep, the stimulating psychological fare might be out of the question.
Thankfully there's Paul Blart: Mall Cop. More of a Black Friday movie, this will either get you in the mood to brave the early morning shopping throngs or convince you to stay home altogether. Either way, it's a win.
---
Awesome Dad Movies for Halloween
There's always been something about the Halloween season that leads people to marathon horror movies. Maybe it's the general darkness, that the weather's bad so staying inside makes more sense, or it's just fun to sit through cinematic scares.
Most of these skew more towards the family-friendly side of things. Some, however, may be a bit too intense for younger kids or those who scare easily. You know your children and what is and isn't too far for them. Still, it's probably best to watch these before you commit to showing them to your brood.
The Goonies
Okay, The Goonies may not be a traditional horror movie. But there are caves, villains, thrills, and pirates, so we'll let it slide this time.
This swashbuckling adventure puts the kids front-and-center in the action and still holds up decades later.
The Monster Squad
Another film that gives the kids their day, The Monster Squad has become a bona fide cult classic over the years. A group of horror-obsessed pre-teens face-off with classic genre villains like Dracula, the Mummy, and Gill-Man.
And we learn one very interesting, and potentially useful, fact about Wolfman.
Labyrinth
Legendary rock star David Bowie working with Muppet creator Jim Henson seems like a match made in heaven. Their 1986 dark horror fantasy, Labyrinth, follows a young girl (Jennifer Connelly) as she enters a magical world to rescue her kidnapped baby brother from Bowie's Goblin King.
Weird and wondrous, this makes for perfect viewing this time of year.
Beetlejuice
In a career full of strange, off-kilter films, none are as strange and off-kilter as Tim Burton's Beetlejuice.
Funny, creepy, and dripping with imagination, a recently deceased ghost couple (Alec Baldwin and Geena Davis) make the mistake of hiring a crude, crass, over-the-top spirit (a gleefully unhinged Michael Keaton) to haunt the insufferable yuppies who've taken up residence in their house.
The Nightmare Before Christmas
Is The Nightmare Before Christmas a Halloween movie or a Christmas movie? This debate has raged since the Tim Burton-produced, stop-motion animated, fantasy musical came out in 1993.
But you know what? We think of it as both. Or at least as appropriate for either occasion. It's delightful and spooky, but not too spooky for the youngsters, and makes for a perfect watch either time of year.
Gremlins
Another entry that doubles as a Christmas or Halloween movie in a pinch, Gremlins taught us many important lessons. Chief among these is that post-midnight snacks have serious consequences.
It may not revolve around Halloween proper, but Joe Dante's 1984 creature feature totally shares the spirit of the season.
ParaNorman
A blend of horror, humor, and heart, ParaNorman follows a young protagonist who talks to ghosts and battles zombies, bullies, and adults who think he's weird.
Laika's animated adventure tackles deep themes and social issues. But also, and most importantly, it's a rollicking good time rendered in spectacular stop-motion animation.
The Addams Family
The Addams Family was already a classic long before the 1991 cinematic reboot.
But Barry Sonnenfeld's adaptation is one of the rare birds that spoofs the original at the same time it lovingly embraces the macabre subversiveness in ghoulishly fun ways.
Hocus Pocus
What would a Halloween movie list be without at least a few witches?
Hocus Pocus, the tale of a trio of 300-year-old witch sisters transported to 1993, has become a full-blown cult classic and a frequent addition to many seasonally appropriate watch lists.
Sure, it's silly, but it provides some delightful spooks and scares for parents and kids alike.
Young Frankenstein
You may not think of Mel Brooks as being wholesome family fare. But while the filmmaker's trademark blue humor is on full display in his 1974 riff on the Frankenstein story, much of it is subtle enough to fly over the heads of younger audience members.
It's Halloween viewing you can enjoy along with your kids.
There are, of course, countless other films to help prepare for Halloween. You can marathon all eight (!) Harry Potter movies to stay busy leading up to October 31. It's the Great Pumpkin, Charlie Brown is a Halloween classic. And it's never too early to introduce the kids to timeless Universal horror movies like Dracula, Frankenstein, The Wolf Man, The Mummy, and the rest.
These are just a few of our favorite awesome dad movies for various holidays. There are, of course, countless others. Let us know your favorites.