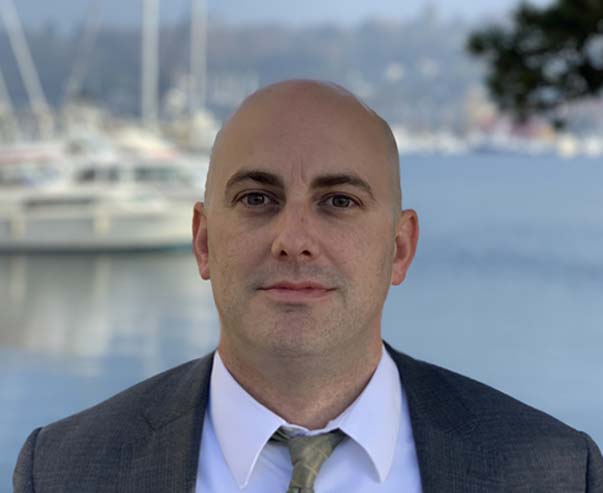 "Going through Goldberg Jones for our child custody modification was the best decision we made, worth every penny! Our attorney Nathan Gibbs was professional, had good communication skills and great follow through. Without his hard work and dedication we might not have won our case. Nathan was proactive every step of the way and made sure that the process was as easy as possible. We HIGHLY recommend Nathan Gibbs and if we need another attorney in the future will be returning to him." Shawnna - Seattle
Nathan has too many reviews to fit here.
More Reviews
BA Studio Art & Sociology, Humboldt State University JD, Seattle University School of Law
A fierce litigator, Nathan Gibbs is dedicated to producing results for his clients using a combination of detailed preparation and quick thinking. Nathan's passion for law stems from his desire to protect the relationships between fathers and their children with relentless advocacy.
Meticulous, dedicated, and sharp, Nathan diligently pursues every case with integrity and intensity to produce the most favorable outcome possible. While never afraid of a fight, he understands that using the right tool for the job is the best way to achieve his clients' goals.
Managing attorney Ken Alan said, "Nathan's experience as a prosecutor has made him a sharp negotiator that is comfortable in the courtroom. Nathan understands that family law is about helping people through a difficult time. It is obvious that he really cares about his clients."
Using a flexible and adaptive approach to his legal practice, Nathan carefully assesses every case to develop an effective strategy. Committed to doing what is necessary to protect his clients' rights and assets, Nathan is adept at negotiation and litigation.
When he isn't in the office or the courtroom, Nathan enjoys spending time with his family, sharpening his grill-master skills, and honing his drawing and painting talents.
Have Questions About Divorce?
Call 1 (800) Divorce or (206) 448-1010
To Get your Phone Questions Answered at No Charge!
Free Case Review
(206) 448-1010