BS Legal Studies, University of Central Florida
JD University of Washington School of Law
---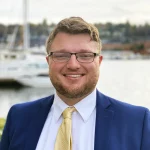 An energetic, enthusiastic family law practitioner, Noah Cuccuini is a staunch advocate for his clients and an integral member of the Goldberg Jones team in Seattle.
Personable and professional Noah has the skills and preparation to handle the needs of each case, no matter where it takes him. Kind and attentive, he knew straight out of law school that he wanted to practice family law. There's no place he'd rather be than fighting to get the best results for those he represents.
"I'm drawn to family law because it is an opportunity to help people transition to a different stage of their life while protecting what they already have," he says. "I am very passionate about being an advocate for people when they need it the most and family law provides the chance to be exactly that. "
"Noah is a sharp, thorough attorney," managing attorney Ken Alan adds. "His commitment to his clients is second to none and his passion for this work really shines through. This is where he wants to be."
A Florida native, Noah earned his bachelor of science degree from the University of Central Florida in Orlando. From there, he swapped coasts and studied law at the University of Washington School of Law here in Seattle, where he earned his Juris Doctor.
When not fighting to protect the rights of those he represents, Noah can be found on the basketball court, cooking, and spending time with his significant other and their two dogs.
Have Questions?
We Have Answers.
Phone Questions Answered By Our Managing Attorney For Free!