This time of year often turns into a traffic jam of activity. The kids are out of school (at least they will be soon), there are holiday plans to finalize, and the shopping won't do itself.
Too often, this leads to constant stress. But it's important to remember the holidays are all about friends, family, and loved ones. Take a step back, smell the pine tree scent hanging in the air instead of the one dangling on your rearview mirror, and appreciate what you have.
Seattle Holiday Events & Activities
Christmas Ships
Being close to the water is one of the biggest perks of living in the Pacific Northwest. And we take full advantage of that fact this time of year.
Throughout December, Christmas ships make use of the waterways to spread seasonal cheer. A tradition dating back more than 60 years, the Argosy Christmas Ship Festival decks out dozens of boats and sails across the Puget Sound.
Leavenworth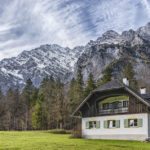 Another perk of living in our region is our proximity to the mountains. We're just a quick drive away from skiing, snowboarding, and various other alpine activities. And nestled in the Cascades to the East, Leavenworth makes full use of this setting.
The picturesque Bavarian village transforms into a dazzling winter wonderland. With events scheduled every weekend throughout the season, you'll find all varieties of live music and entertainment.
And this doesn't even include other family activities like tubing, dog sled rides, snowshoeing, and more.
Winterfest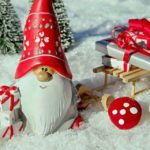 Every year, Seattle Center presents Winterfest, and there's something for everyone. Once again, the Armory hosts an elaborate model train. Fisher Pavilion houses the ice skating rink.
Throughout the month there are dozens of performances from choirs, dance troupes, bands, sketch comedy groups, and, of course, carolers galore.
You'll find a stunt show, jump rope competition, magicians, and even an ice sculpture contest. And it all culminates in the New Year's Eve celebration at the Space Needle.
Wild Waves & Enchanted Villiage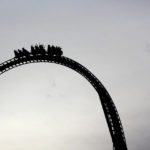 What's more fun than a roller coaster? A roller coaster decked out in Christmas lights! With more than a million bulbs, Wild Waves and Enchanted Village are a sight to behold during the Christmas season.
You can choose from 25 rides, visit Toyland, and check out the nightly laser light show. And just because it's not snowing, that doesn't mean you can't pretend. You can duck into the Falling Snow Tent and make-believe. And no holiday excursion is complete without a visit with Santa Claus himself.
Holiday Carousel
The Downtown Seattle Association's Holiday Carousel is at Westlake Park.
It's a quick and easy stop, you can check out the gorgeous holiday tree that shares the same space, and all proceeds benefit Treehouse, a nonprofit that provides support for local foster kids.
Cut Your Own Christmas Tree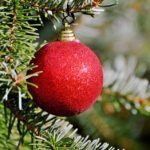 We can list any number of reasons why we love living in the Pacific Northwest. Chief among these, however, is ready access to nature and outdoor activities. Within a few hours, we can climb mountains, go skiing, hike picturesque trails, visit the ocean, and more.
During the holiday season, this provides us with the chance to cut down our own Christmas tree. Sure, it's easier to visit one of the many lots around town a pick on up there. But there's something uniquely wonderful about gathering the family, heading into the woods and picking out your own Christmas tree. Even if it's really only a dedicated tree farm.
Seattle International Film Festival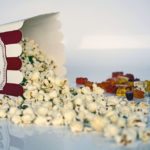 The weather may not be great this time of year, but you can always bundle the family together and celebrate the holidays in a movie theater.
SIFF hosts a variety of seasonal favorites, such as Home Alone, Scrooged, and Fiddler on the Roof. They also have a "December After Dark" series with the likes of The Thing and Die Hard.
Seattle Santacon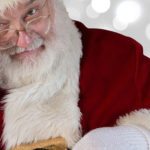 This one's just for you. Admittedly, SantaCon skews more to the adult side of things. A Santa Claus-themed pub crawl through the watering holes of downtown Seattle, see if your parents will watch the kids.
If dozens and dozens of festive folks dressed like the personification of Christmas, drinking booze and sharing merriment sounds like a good time, this may be worth marking on the calendar.
Zoolights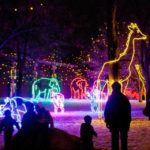 Exotic creatures and wild animals are the primary attractions at our local zoos, but this time of year there's even more to enjoy. Running through January 1, both Woodland Park Zoo in Seattle and Point Defiance Zoo and Aquarium in Tacoma host zoo lights events.
With hundreds of thousands of lights on display, you can ride on a carousel (or a camel), marvel at the holiday displays, and still hang out with all of your favorite year-round animal residents.
Winterfest at Seattle Center
You don't have to travel outside of the city to find holiday cheer, all you need to do is visit Seattle Center. There's plenty of fun to be had for every member of the clan at Winterfest.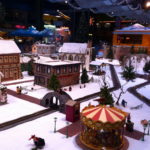 The Armory features an elaborate model train with a delightful turn-of-the-century village, as well as a slate of performances by students from various local schools.
If you feel like braving the elements, visit the ice skating rink at Fisher Pavilion or check out local artisans as they create elaborate ice sculptures.
The Seattle Children's Museum features exhibits about holiday celebrations from a variety of cultures around the world, and the Center grounds are decked out with festive lights.
And, of course, it wouldn't be Christmas in Seattle without the Nutcracker at the Pacific Northwest Ballet.
Christmas Lights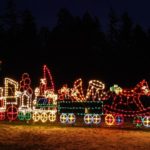 It's just not the holidays without spending at least a little time cruising through the streets, checking out Christmas lights. You've got deliberate displays, like Fantasy Lights in Spanaway or Garden D'Lights at the Bellevue Botanical Garden.
But one of the truly special things about this time of year is how average everyday folks go through the extra effort to thrill and delight their neighbors.
Related Reading: Awesome Movies to Watch With Your Kids