BA International Affairs and Communications, Florida State University
JD Florida Coastal School of Law
---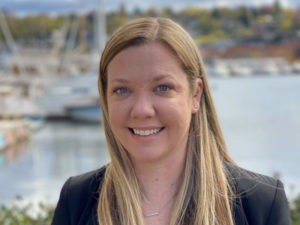 An effective, committed family law practitioner, Ashley Jacquin is a staunch advocate for her clients and a key member of the Goldberg Jones team in Seattle.
A creative problem solver who thrives in complex situations, Ashley is sensitive and calming but also understands when it's time to be tenacious and aggressive.
Upon entering law school, Ashley knew immediately family law was a natural fit.
"Being able to assist clients during a time in their life in which they are most vulnerable and getting them favorable results is extremely rewarding," she says. "I have the ability to be compassionate with my clients and represent them zealously at the same time."
She continues, "Coming from divorced parents and then watching my friends navigate issues such as child custody and divorce. I understand how the impact of these issues can reverberate through to the people closest to you."
Kind, attentive, and personable, Ashley possesses the skills and preparation to handle the needs of a particular case, no matter where it takes her. With a sharp eye for detail, she keeps the best interests of her clients at the forefront of her strategy at all times.
A Florida native transplanted to the Pacific Northwest, when not in the office, Ashley can often be found exploring the amenities the region offers. She's particularly fond of hiking and attending local sporting events, usually with her significant other and their Goldendoodle, Molly, in tow.
Have Questions About Divorce?
Phone Questions Answered By Our Managing Attorney For Free!